Helping Agriculture Flourish through Better Communication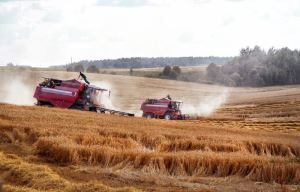 Two-way radio experts from RadioTrader will be answering questions from visitors at this year's CropTec Show on 29th and 30th November (Stand 20, Hall 3).
RadioTrader is an established specialist in agricultural radio communications, with an outstanding reputation for service and customer support.
Business director Simon Hampson says,
"The farming and agricultural community is more technically aware than ever before, but making the transition from less effective forms of communication, such as phones or CBs, isn't always easy.

"Attending shows like CropTec gives us the opportunity to show people how two-way radios can transform the way they communicate. We've helped numerous farmers adopt the latest up-to-date digital radio technology and we've had extremely positive feedback."
Farmers themselves have made the following statements about their new radio systems:
"RadioTrader has improved our efficiency; we are always in contact with each other, unlike with CB's. Two way radios are much clearer and much more reliable."

James Crowell

"All of our tractors are now fitted with two way radios, this ensures jobs are completed more efficiently and every member of staff is in constant communication."

Jim McNair

"Better and consistent communication makes the job much easier during the harvest. Also two ways are much more secure than the CBs we used to have."

Paul Wilson
Simon is fully committed to RadioTrader's services for this sector. "We're 100% convinced that radios are a brilliant solution for farms needing to operate intelligently, safely and efficiently", he says.
RadioTrader provides mobile and portable radio systems to suit any budget and helps with every aspect of getting up and running, from the initial free consultation to licence applications, maintenance and repair.
You can find out more about RadioTrader's services from their website, www.radiotrader.co.uk or by calling 0151 676 2888.
Released On 5th Oct 2017
You may also be interested in
Two way radios helping forestry workers to see the wood for the trees
Covering approximately 3 million hectares, woodland in the UK makes up around 13% of the total land area. Maintaining t...
Agricultural workers swap CB for private mobile radios
Agricultural workers work over a wide acreage, often in isolated areas, so good communication with co-workers is essent...
Like this article? Share with your friends