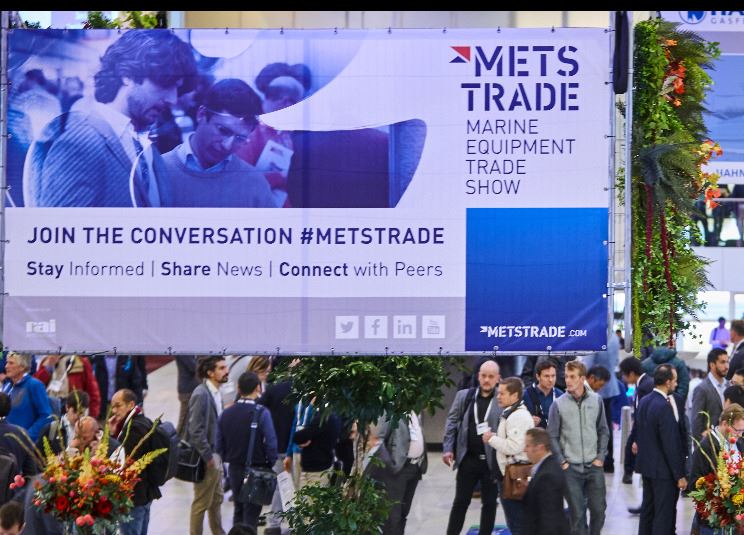 Join Us At The METSTRADE Show In Amsterdam

Released On 21st Aug 2019

As one of Motorola's premier platinum partners, RadioTrader are pleased to announce that we are exhibiting on Motorola's behalf at the METSTRADE show in Amsterdam on the 19-21st November 2019. We will be showcasing a range of different Motorola two way radio equipment and accessories, designed to make communication easier and efficiency greater.
We encourage new and existing customers to visit our stand and take a look at the wide range of Motorola equipment available. We can be found in Hall 7 Stand 540 in the Marina Yard Pavilion.
Popular Two Way Radios
Our range of Motorola marine radio equipment is suitable for use on small pleasure craft to super-yachts and ferries. We've carefully selected radios that include useful features for maritime communication between vessels and ship-to-shore, as well as private internal communication between teams of staff on board. We supply marine radio equipment to yacht fitters, ferries and boatyards but we are equally happy to advise owners of private vessels about their radio requirements.
Motorola DP3441E
Unsurprisingly, maritime radios get wet. Ensure yours isn't just splash-proof, but meets or exceeds the basic IPX7 rating, which offers complete protection for submersion up to 1 metre deep for at least 30 minutes. Take a look at the Motorola DP3441e hand portable, with an impressive IP68 rating, this is ideal for basic radio communication on board. We recommend this unit to users in the engine room / wheelhouse.
Motorola DP3661e Hand Portable
This radio is also IP67 rated and is aesthetically pleasing due to the large, bright LCD display. We would recommend this radio for the captain / command team because of its ability to individually call radios and easily identify who is transmitting. However due to its robust nature and superior performance this has been proven to be a popular radio for all departments on-board. View this product.
Motorola SL4000e / SL4010e
We recommend this model of radio for the interior team / steward staff. They are not submersible, but they are discreet, lightweight, supplied with a swivel clip or lanyard and not as bulky as other radios. View this product.
We also supply two way radio equipment to meet SOLaS Chapter II-2, Regulation 10.10.4 requiring ships to carry a minimum of two intrinsically safe, ATEX compliant hand portables for each fire party. For Further information, please read our detailed news article here.

How Radios Have Helped One Existing User
Ryan, a long-standing RadioTrader customer, is Chief Officer on a 171.59 foot luxury motor yacht with 5 cabins and room for 10 guests and 13 crew. RadioTrader supplied the yacht with its radio equipment and Ryan has outlined some of the reasons it is so useful on board.
When the ship is entering or leaving port radios provide an information link between the mooring stations and the Captain as he is manoeuvring the vessel into position. They also provide a link between the Engine room and Wheelhouse with the aid of the "over-the -head headset and noise cancelling boom microphone" - Noise Cancelling Headset.
During emergency situations and drills, two way radios provide a constant stream of information to the Command team and allow them to issue orders and delegate tasks.
Marine radios provide general communications between crew on board when coordinating jobs.
Ryan told us, "All crew on board yachts are issued with personal UHF radios. We currently operate on single-channel without guests on board, and multi-channel once we are busy and require less cross-talk. We have 13 crew in total.
"The Deck and Engineering teams need more robust radios (without a screen that could break), IP67 waterproofing, and a larger antenna for greater range when away from the vessel in tenders or ashore.
"The interior team is more matched to discreet radios that suit their uniforms and do not attract attention from the guests. The interior team will always wear a headset when we have guests on board the vessel to avoid any unwanted noise disturbing the guests. They use a Bluetooth headset and have two units each so one can be constantly on charge.
"I am also aware of larger yachts requiring repeater units on board to help the communications travel through the steel and aluminium structure of the ship."
Again we would love you to visit us on our stand in Hall 7 Stand 540 in the Marina Yard Pavilion. For more information about any of RadioTrader's products or services, Please contact us.