Released On 22nd Nov 2017
Top 10 Two Way Radios for Business in 2017
Buying guide & reviews
Still trying to decide on the best two way radio for your business? According to our research, the models below were the most sought after in 2017. Here's a quick run-down on some of the features that make these models so popular.
1. Motorola DP1400
The most searched for radio of 2017, the DP1400 tops our list and leads the way over its rivals by some margin. This is a great entry-level hand portable radio, with plenty of built-in features and it's available in both analogue and digital models.
Not quite ready for digital yet? When the time is right, all the DP1400 needs is a simple software upgrade. And when you do migrate to digital you'll gain more efficiency as it operates up to 40% longer than analogue on the same battery – and you get twice the capacity from the same 12.5 kHz channel, using the Dual Capacity Direct Mode feature.
The Motorola DP1400 is rugged, reliable and great for use in tough environments (IP54). The price is also a draw for businesses on a tight budget, retailing at a very affordable £132.00.
2. Motorola GP340
Probably the most widely used Motorola analogue radio in their whole portfolio; this may not be the newest kid on the block, but with 16 channels, VHF and UHF models and fantastic functionality, its staying power is no surprise.
We currently have fully refurbished models in stock, complete with battery, antenna and belt clip for just £75.
Buy the refurbished Motorola GP340.
3. Motorola DP4400e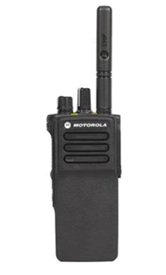 Some of the clever features in the new DP4400e radio include: built-in Bluetooth, a clear LED display, up to 28 hours of battery life and an IP68 rating (meaning it's completely dust-tight and protected against continuous immersion in up to 1.5m of water for up to 30 minutes).
The DP4400e has great range, too (boosted by 8% compared to previous models) 32 channels and lots of features to improve worker safety.
4. Motorola CP040
An entry-level UHF/VHF hand-held two way radio, this radio is a great starting point for small to medium-sized businesses looking for a good quality, well-built business radio that will withstand the rigours of the working day.
The CP040 has largely been replaced by newer models now, but accessories are still widely available and RadioTrader does have fully refurbished models in stock, complete with a new battery, antenna, belt clip and programming if required.
Buy the refurbished Motorola CP040.
5. Motorola GM340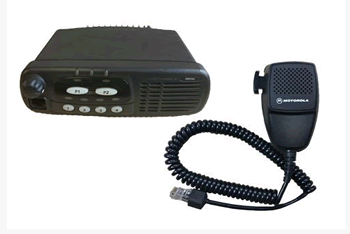 So far, our Top 10 has comprised hand portables, but Motorola's GM340 mobile radio has made the list owing to its enduring popularity as a taxi radio or for use in the farming industry. One of the most popular analogue mobile radios on the market, it has 6 channels and a number of essential functions and security features.
RadioTrader has fully refurbished GM340s currently in stock for just £47.50. The package also includes bracket, microphone, power lead, programming (if required) and a 3-month warranty.
Buy the refurbished Motorola GM340.
6. Motorola SL1600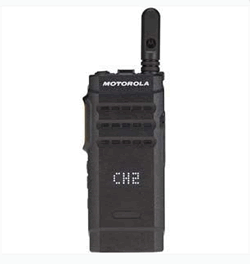 At just 22mm thick and small enough to fit discreetly into your pocket, the Motorola SL1600 provides reliable push-to-talk communication for the everyday user in an ultra-slim, rugged profile. It's a perfect work partner and so easy to use…we're not at all surprised this is one our most popular two way radios.
Among its many features the SL1600 has a shatterproof LED display, IP54 dust and water-resistance rating, 99 channels, enhanced range and long battery life.
7. Motorola DM4600e / DM4601e
Crystal clear digital audio, data compatible communications, integrated Bluetooth and GPS (DM4601 only), text messaging and 4-line colour display – just a few of the features provided by Motorola's DM4600 range of mobile two way radios.
Popular with delivery drivers and couriers, highways maintenance crews and anyone who works remotely from their vehicle, the DM4600e can help employees work smarter and safer.
Buy the Motorola DM4600e or DM4601e.
8. Motorola DP4800e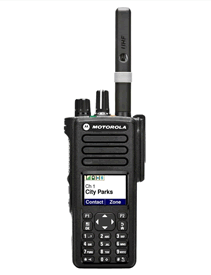 One of the newer hand portables from the Mototrbo range, the DP4800e is for the skilled professional, offering complete connectivity to your organisation. With 1,000 channels, great range and up to 28 hours of battery life, it's also fully dust and waterproof, so it can withstand the rough and tumble of the most rugged work environment.
Did we mention the integrated Wi-Fi for remote software updates? Or the many features that will help to safeguard your staff? There are too many benefits of this radio to mention here, but follow the link below to see why it has all the technology you're ever likely to need.
9. Motorola DP2400e
This updated model is the replacement for the DP2400, with improved range and Intelligent Audio which adapts to your environment, making it easy to communicate in noisy work environments.
The DP2400e operates in both analogue and digital modes, with a dynamic mixed mode repeater that helps you switch automatically between both. Great for businesses that are making a gradual switch between analogue and digital handsets.
10. Motorola SL4000 &SL4000e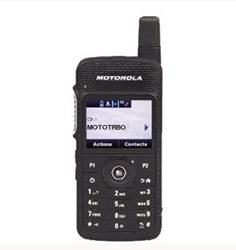 Relatively new to the market, the SL4000 and SL4000e has wasted no time in climbing into this top 10 list. And that's no accident: this ultra-slim, ultra-light two way radio is packed with useful technology.
It's also very portable, with a high definition display that adapts automatically to light conditions, best-in-class audio and a sleek, discreet profile which makes it a very popular choice in the hospitality sector.
Buy the Motorola SL4000 or SL4000e.
Need help choosing the right two way radio?
Our Top 10 list is undeniably dominated by Motorola, but we stock many excellent radios from all the leading brands, including Icom, Tait, HYT, Kenwood and Vertex.
Other information we can help you with
Ask us about:
Battery life
Accessories
Extending your range
Channels and security codes
Advanced two way radio functions
Assistance with Ofcom licencing and programming
Whatever your needs, RadioTrader can advise and support you through your purchase, with free delivery on all UK orders.
Get in touch for free, expert help – Call 0151 676 2888.
You may also be interested in

20th Apr 2017
Radio Trader customers get the benefit of our unbeaten service before, during and after their purchase.

29th Jul 2015
NiMH & Li-Ion batteries: Q & A for two way radio users For many years, right up to the...
Read More