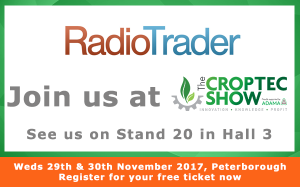 Visit RadioTrader at the 2017 CropTec Show
Weds 29th & Thurs 30th November, 2017
RadioTrader looks forward to talking with farmers and agronomists about the latest two way radio technology at this year's CropTec Show at the East of England Showground, Peterborough, on 29th and 30th November.
Bringing together over 130 exhibitors, as well as informative seminars and presentations, CropTec offers the arable farming industry an abundance of opportunities to explore best business practices and the latest innovative technology.
Having spoken to many farmers at the LAMMA agricultural show the last two years, we recognise that it's an increasingly challenging world for crop producers; technical advancements in radio communication play a vital role in improving efficiency and reducing costs, something RadioTrader has been helping agricultural workers to achieve for many years.
Free, expert advice
Accredited Motorola Platinum Channel Partners
Latest two way radios with innovative features
Starter packs, including radios and installation packs
New and refurbished stock
Find us on Stand 20 in Hall 3 and learn how two way radio technology can help you work smarter, safer and more profitably.
Visit the CropTec Show's website for full details of exhibitors and show features, or call us on 0151 676 2888 for more information.
Released On 5th Sep 2017
You may also be interested in
Radio Trader - for service that goes beyond the sale
Radio Trader customers get the benefit of our unbeaten service before, during and after their purchase.
Two way radios helping forestry workers to see the wood for the trees
Covering approximately 3 million hectares, woodland in the UK makes up around 13% of the total land area. Maintaining t...
Like this article? Share with your friends