Popular Industries:


Motorola EVX-S24 Digital Handheld Two-Way Radio Two Way Radio
RRP
£207.00
|
You Save £61.50
29.71% OFF
Call For Stock Status
£145.50
(£174.60 Inc Tax)

Price Checked
---
Brand Code: AC146U502-MS
---
Key Features
IP67 Submersible
Compact and Lightweight
Available In Black and Yellow
8 Character Alphabetic Display
Emergency / Emergency Alert
Lone Worker Alert

There are lots of reasons why the Motorola EVX-S24 gets our Geeks choice thumbs up. Firstly they are made by Motorola, they are extremely well priced and feature rich such as caller display and IP67 submersible. Ideal for all sorts of business application such as education, agriculture and water sports activities.
Free UK delivery available on orders over £100.00.
Orders to be placed by 14:00pm for next day delivery*.
Next day delivery is a working day delivery and does not include Saturday and Sunday.
Tracking information will be emailed once your parcel has been collected.
For further information and information on worldwide shipments, please click here.
Credit / Debit Card
We accept payment during checkout by debit or credit card using our secure Sage Pay payment system. Alternatively we can process payments over the phone using a secure World Pay terminal.
PayPal
We also accept payment by PayPal, this can be completed on checkout using the PayPal symbol.
Cheque
Payment by cheque is accepted. Please contact us prior to sending this if you wish to use this method.
Contact Form
---
Related Products
---
Product Description
The EVX-S24 is a feature rich, compact and lightweight handheld two-way radio which is now available as part of the Mototrbo range. This radio operates in both analogue and digital and is a cost effective solution for anyone looking to upgrade an existing analogue system to digital. We find this radio to be perfect for users in the education or hospitality industry due to its small size, variation in colour and LCD display for caller ID and individual call.
A popular feature that the Motorola EVX-S24 offers is the emergency alert. If for example you have a team of 20 radios deployed on site, with each radio user having an individual contact name, the radio is able to issue an emergency alert to everyone. This emergency alert will emit an audio alarm and show the radio name which has triggered this, reducing the time taken to respond. An example of individual radio contact names would be assigning the radios to school classrooms they have been deployed in. The Motorola EVX-S24 two way radio is ideal for a school lockdown procedure.
Another popular feature the Motorola EVX-S24 has is the IP67 submersible rating, allowing for total submersion in water for 30 minutes. This feature has opened up the EVX-S24 to the marine and outdoor leisure industries and is the perfect size to pair with a Cetacea lanyard. As the EVX-S24 is available in black or yellow, a handheld two-way radio that is used on a vessel out on deck for example can be yellow, allowing for this to be easily assigned to certain team members and easily seen if dropped. Black units can then be used by interior crew, providing a more professional look when customer facing.
Other popular industries we have supplied the Motorola EVX-S24 into is agriculture, waste management, health sector, nursing homes and hospitals.
Motorola EVX-S24 video and brochure

Motorola EVX-S24 Brochure / Data Sheet
UH-OH Proof - IP67 Submersible
Key Features
Compact and Discreet
IP67 Submersible Radio
Height 3.58 x Width 2.17 x Depth 1.24 Inches
Weight - 215g With Belt Clip
Available in Black or Yellow
12 Hours Battery Life - Digital / 10 Hours Battery Life - Analogue
8 Character Alphabetic Display
Direct Mode Operation
Transmit Interrupt
Emergency Alert
Battery Status Indicator
Low Power and Whisper Mode
BCLO
Time Out Timer and Key Lock
Lone Worker Alert
Basic and Enhanced Privacy
Text Message
Call History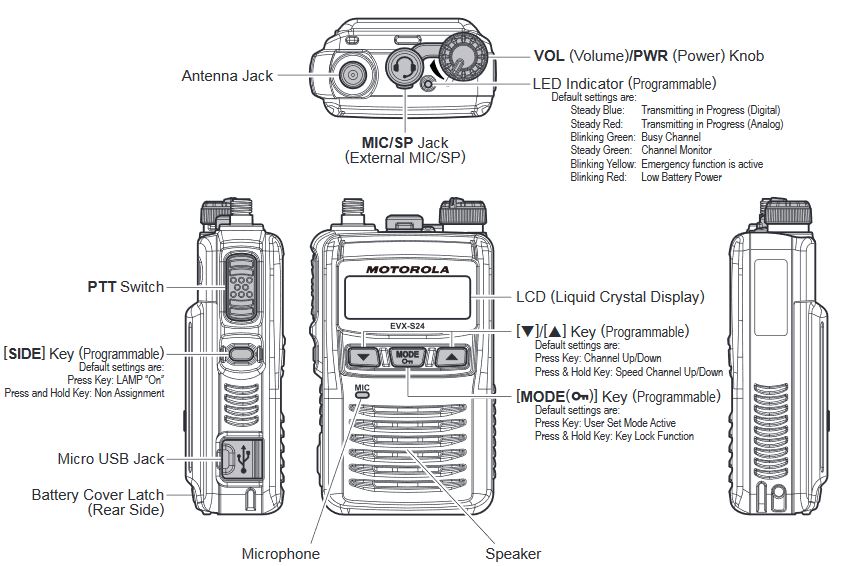 Package Includes
Handheld Radio
Antenna
2300Mah Li-ion Battery
Belt Clip
Accessory Socket Dust Cover
Operational Manual - Motorola EVX-S24
Why Choose RadioTrader

Motorola Platinum Dealer - RadioTrader is pleased to be a Platinum Channel Partner with Motorola Solutions. This is the highest channel partner certification available and recognises our expertise of Motorola Solutions products and applications. This enables us to offer our most competitive pricing and expert technical support for your Motorola EVX-S24 handheld two-way radios, Find out more about our Motorola Platinum Award.
Price Match Promise- We strive to offer the most competitive pricing on the Motorola EVX-S24 handheld two-way radio and are currently running a price match promise on this model. In order to uphold our Price Match Promise and not be beaten on price, we actively monitor the prices offered by our competitors daily. More Info.
Experts in Export On The Motorola EVX-S24 Handheld Two-Way Radio- We offer a full worldwide export service which includes specialist shipping and dealing with customs to make sure your Motorola EVX-S24 arrives when required. If you are based in Europe, Africa, Asia, North America, South America, Oceania or even Antarctica then we have you covered. A typical export from RadioTrader is sent DAP (Delivered At Place) however we also ship the EVX-S24 using methods such as EX Works and FOB (Free On Board). All our shipments are fully insured for goods in transit. RadioTrader also issues commercial invoices for shipments outside of Europe and ensure all HS tariff codes are correctly used, reducing customs delays. More Info.
Ofcom Licencing

When purchasing your Motorola EVX-S24 from us, RadioTrader can help with licencing, assisting with decisions such as which licence is most appropriate for your needs. We can also make the application on your behalf. Find out more about Ofcom licences and how we can help.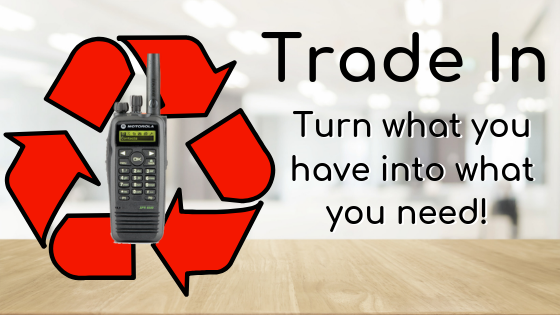 Question: What is the power output? I am curious if this would comply with EU PMR446 standard. Thanks
Answer: This is a 4Watt radio and unfortunately this is a licenced radio and will not comply with EU PMR446 standards. Please browse our range of licence free products which will comply with PMR446 EU standards - https://www.radiotrader.co.uk/shop/license-free-radios.
Be the first to ask a question for this product.
Be the first to review this product.