Two Way Radios For Education

RadioTrader are specialist suppliers of professional two-way radio equipment to the education sector. We provide expert help and professional, easy-to-use two-way radios to schools, colleges, universities, day-care centres and nurseries throughout the UK.
Schools, colleges, universities and other educational institutes can benefit from using two-way radios (sometimes referred to as walkie-talkies). The improved communication will assist with the fast relay of essential messages for playground supervision, school grounds maintenance and security, as well as urgent classroom-to-office communication.
Benefits of two-way radios for schools:
Instant secure communication with staff
Improves health and safety
Immediate response to Incidents
Lone Worker feature for staff
Private individual call
Group Call - all informed
Improves lockdown procedure with integration into alarm panels
Examples Of Two Way Radio Features
Emergency Alert
A popular feature that two way radios offer is the emergency alert. For example, if you have a team of 20 radios deployed on site, with each radio user having an individual contact name, the radio is able to issue an emergency alert to everyone. This emergency alert will emit an audio alarm and show the radio name which has triggered this (linking with individual call), reducing the time taken to respond.
Individual Call
Individual Call allows for radios with the private call / display feature to be given an individual name. This individual name is unqiue to that radio and is seen on all other radios' displays when that radio transmits a message. In an education environment, a two-way radio name could be assigned to a specific radio according to the school classroom it has been deployed in, or the name of the teacher using the radio. This also works in conjuction with the emergency alert feature, so that when the emergency button is pressed it will display the individual radio name so that action can be taken more efficiently.
Lockdown Procedure - Alarm Integration
Two-way radios can be integrated with a school's alarm system to provide greater functionality and a more rigorous communication system. For example, an alarm unit installed into the school building's fire alarm panel can send immediate alerts to the two-way radio, displaying all the relevant information and the location of the alarm that has been triggered. This can help a school's Fire Officers to co-ordinate the correct response, both in and out of school hours.
Another safety and security feature that can be used in conjunction with your lockdown procedure is the ability to install emergency Wi-Fi buttons across the school's site, an example being in classroom drawers or mounted on walls. These Wi-Fi buttons connect to the existing Wi-Fi system and the alarm panel. The buttons are programmed with three different steps, which are relayed depending on the amount of times the button has been pressed. If the Wi-Fi button is pressed once, a pre-set lockdown message is triggered and sent to the alarm system, along with the two-way radio that has sent the message. Once the alarm system receives this message it is quickly forwarded out to all the radios on site.
As soon as the lockdown is over, two presses of a Wi-Fi button issues another pre-set message letting everyone know the emergency is over.
Ideal two-way radios for education sites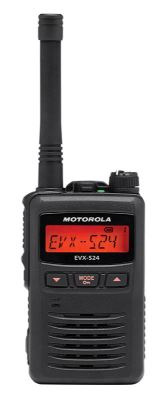 Motorola EVX-S24
An extremely popular two-way radio we would recommend for schools, colleges and universities is the Motorola EVX-S24 two way radio. We believe this radio has many key features which will benefit and improve communications in education sites. The EVX-S24 includes an 8-character alphabetic display that shows channel information and caller ID, an emergency button and emergency alert functionality, lone worker alert and an impressive IP67 rating to provide protection in even the worst weather.
Further information and pricing on the Motorola EVX-S24.
Video on the Motorola EVX-S24
Motorola SL1600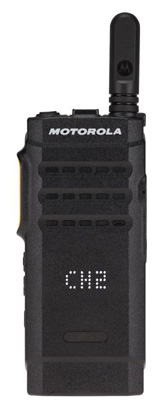 The Motorola SL1600 is an ultra-thin portable two-way radio measuring just 22mm thick. Amazingly, it's smaller than today's smartphones. This radio is fitted with a small stubby antenna and uses technology called Range Max Receiver to ensure the radio delivers enhanced range whilst maintaining a slim profile and excellent battery life.
The Motorola SL1600 features a shatterproof active-view LED display that is housed behind the case, allowing the radio to withstand the rigours of a working day. This radio includes lone worker functionality, up to 99 channels, advanced technology for louder audio, and digital emergency alert via a programmable button.
Further information and pricing on the Motorola SL1600.
Video for the Motorola SL1600
Motorola SL2600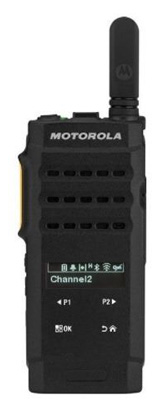 Building on the impressive features of the Motorola SL1600, Motorola released the SL2600 two-way radio. This radio is a sophisticated mid-tier handheld two-way radio that features an elegant virtual mini-keypad display housed in a discreet design.
The Motorola SL2600 includes many of the same features as the SL1600, but also includes further functionaility such as integrated Bluetooth for wire-free communication, integrated Wi-Fi for over-the-air programming, 2-line OLED display with caller ID and the ability to private call individuals.
Further information and pricing on the Motorola SL2600.
Video for the Motorola SL2600
What's best for your school site? Digital vs analogue two-way radio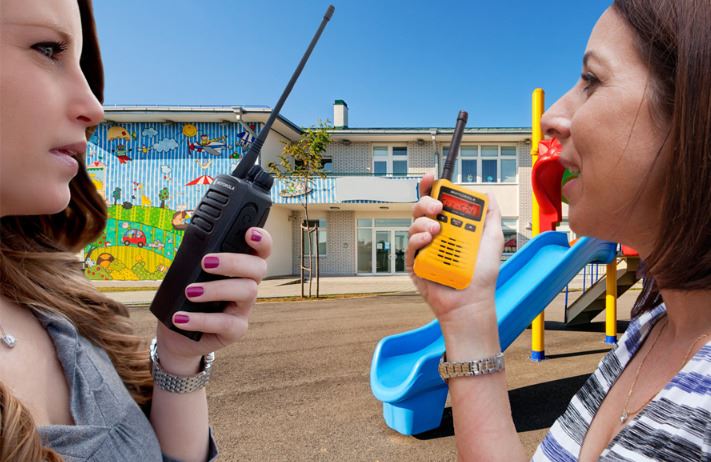 We're often asked to explain the difference between digital radios and analogue radios, so we have created an article which will help your education site look at the pros and cons of each technology. The article also explains the OFCOM licensing implications of both technologies and hopefully put to bed the rumours, which are often circulated by other radio communication suppliers, that analogue radios will soon be defunct and you will have to upgrade all your school's radio equipment.
Radio Exchange - a cost-effective solution for schools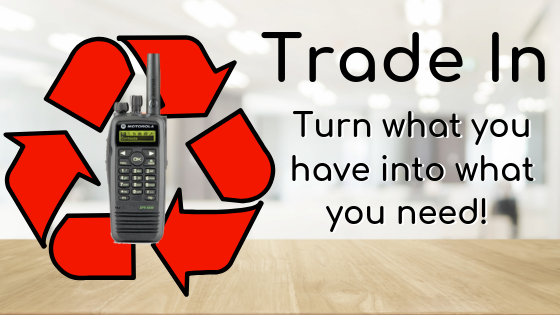 Radio Exchange offers a cost-effective service for schools, colleges and university campuses using two-way radios to sell or upgrade their existing mobile or portable radio equipment. The benefits are two-fold: firstly it reduces the cost of purchasing new radio equipment and secondly, it is a simple and convenient way to dispose of your unwanted radios.
If you have any older analogue or digital two way radios and would like to upgrade, or they are simply no longer in use, please contact us using this form.
Featured Brands