3M Peltor CH-3 FLX2 Neckband Headset With Built In PTT and Headband
RRP
£190.00
|
You Save £42.50
22.37% OFF
In Stock
£147.50
(£177.00 Inc Tax)

Price Checked
---
Brand Code: MT74H52B-111
---
Key Features
Bright Yellow Colour For Enhanced Visibility
Slim Cup Design
Detachable Down Lead Connector For High Flexibility
Improved Speaker Efficiency
Watertight Microphone - IP68 Noise Cancelling Boom Microphone
Neckband Headset For Connection To Helmet

Free UK delivery available on orders over £100.00.
Orders to be placed by 14:00pm for next day delivery*.
Next day delivery is a working day delivery and does not include Saturday and Sunday.
Tracking information will be emailed once your parcel has been collected.
For further information and information on worldwide shipments, please click here.
Credit / Debit Card
We accept payment during checkout by debit or credit card using our secure Sage Pay payment system. Alternatively we can process payments over the phone using a secure World Pay terminal.
PayPal
We also accept payment by PayPal, this can be completed on checkout using the PayPal symbol.
Cheque
Payment by cheque is accepted. Please contact us prior to sending this if you wish to use this method.
Contact Form
---
Product Description
The 3M Peltor CH-3 FLX2 headset with built in PTT and neckband provides superb hearing protection and communication in noisy environments. The MT74H52B-111 features newly designed speakers, an impressive IP68 water and dust tight microphone and newley designed dual mold cups.
The MT74H52B-111 CH-3 FLX2 neckband headset is a bright, Hi-Vis yellow colour which is designed to enhance workers visibility for added safety. There is also a detachable down-lead for extra flexibility and further flexibility should any two way radios be changed further down the line.
This MT74H52B-111 headset is an ideal headset for users who operate in high noise environments such as pulp and paper, agriculture, construction, airports and various other industries.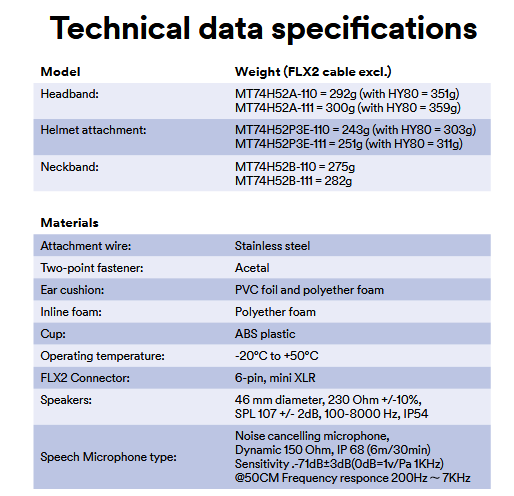 Key Features
Newly Designed Headset
CE Approved
Noise Cancelling Boom Microphone
External Jack For Communicating Wither External Connection Devices
Bright Yellow Colour For Enhanced Visibility
Modern and Slim Cup Design
Detachable Down Lead Connector For High Flexibility
Improved Speaker Efficiency
Water and Dust Tight Microphone (IP68)
Gel Ring Approved
Package Includes
1 x The 3M Peltor CH-3 FLX2 Headset with Built In PTT and neckband
Peltor FLX2 CH-3 Brochure / Data Specifications
Be the first to review this product.