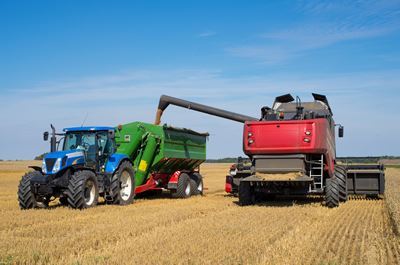 Agricultural workers swap CB for private mobile radios

Released On 5th Jun 2015
Agricultural workers work over a wide acreage, often in isolated areas, so good communication with co-workers is essential to keep farms operating smoothly. Traditionally CB radios have fulfilled this role, but their use is now in decline as new technology surpasses them.
Radio Trader can report a growing trend of farming customers switching to private mobile two way radio (PMR) for tractors and other agricultural uses.
Why are private mobile radios better for agricultural workers?
Hobbyists were passionate about CB radios in the 1980s, but they were never really designed for business use. The craze was short-lived and enthusiasts have dwindled over the years.
The many features of private mobile radios, designed specifically for business users, make them ideal for agricultural workers who need long range coverage in even the most isolated of areas. Features include Emergency/Panic buttons, multi-site coverage and integrated GPS.
No electrical interference
Agricultural vehicles are now more sophisticated, but CB radios can cause electrical interference. Private mobile radios reduce the risk of this dramatically.
Less channel congestion, more privacy
Unlike a two way radio, CBs don't give you a dedicated channel for communication. CB frequencies can be busy and very noisy, and finding a clear channel can be difficult. Even worse, CBs don't provide private communication, so workers are often interrupted by other users having a leisurely chat! If you're working to a deadline and need clear lines of communication, the obstacles are huge.
A two way radio gives you a dedicated channel because OfCom supplies licences and frequencies for radio users.
PMRs are licensed – CB radios are not
Your PMR is licensed professional equipment which is extremely robust and reliable. Licenses are allocated for operation on a particular channel or channels, ensuring privacy in your communication with other users and allowing you to get the job done. There are also licence-free radios available, although they have limitations compared to fully licenced radios.
CB users are an enthusiastic community of radio users who mostly gather for social chat - they're aware that their messages are not private.
Why agricultural workers like PMR radio systems
"We use PMR at harvest - they let everyone chat to each other plus the open channel between combine and chaser bin, and chaser and cart tractors and my farm truck / weighbridge really help logistics get organised on the move. There's no need to wait for a phone to be answered. Instant communication has avoided accidents in the past I'm sure."
Work smarter and safer
Radio Trader has lots of second user mobile radio equipment at prices starting from £50 or new from £199. We also supply starter packs which include the radios and the installation kits, so setting up your own system has never been easier.
Visit our Agricultural Sector for the products we would recommend and pricing - Agriculture Sector
Contact us on 0151 676 2888 or enquire using our contact form for more information.