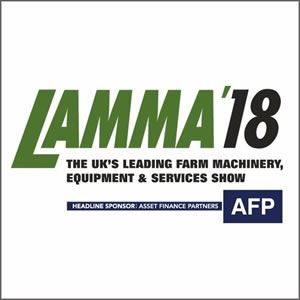 Meet RadioTrader at LAMMA '18, the UK's Biggest Farming Show
Communication solutions for farmers and agricultural workers
RadioTrader is making its annual pilgrimage to the UK's largest farming and agricultural show, LAMMA, at Peterborough's East of England Showground on the 17th and 18th January 2018.
We're looking forward to meeting old and new customers from the farming community, showing you how the latest two way radio technology can transform your business, and answering all your questions.
What are the benefits of using two way radios in farming and agriculture?
Farmers face a unique challenge, often working in widespread but isolated rural areas where phone and CB signals can be poor. Secure, reliable communication between workers is vital for efficiency and safety. Our animated video below shows a typical example of a situation in which two way radios are a more reliable alternative to CB radios or mobile phones.
Secure, private communication
Reliable coverage over a greater range
No crackly static or interference
Clear audio quality
What do our agricultural customers think?
Three farmers we have helped make the switch to newer radio technology told us how it's helped make their business more productive, efficient and safer for their employees.
James Cowell from E & BR Cowell, Essex

The company needs vehicle-mounted radios for general cultivation and harvesting, so that staff can be in easy contact with other farm vehicles which are often in the same field. Radios also help to avoid hazardous situations when moving large agricultural machinery along narrow roads.

E & BR Cowell had been using CB radios for a period of 10 years, but found they had become increasingly unreliable. They needed a better way to do things.

Read RadioTrader's cost-effective solution to supply the company with refurbished analogue mobile radios.

Paul Wilson from GW Wilson, Warwickshire

GW Wilson generally require two way radio communication to allow groups of staff to stay informed of daily work duties at the farm.

The company was using CB radios and mobile phones, but had major issues with the signal from both solutions.

Paul, the owner, also didn't like the fact that CB radios are not private, so people from outside the farm could eavesdrop on messages between his staff.

RadioTrader came up with a digital two way radio system that solved all of Paul's problems. Read the full case study.

Mark Channel from Histon Produce, Cambridgeshire

Mark works in the produce industry, where time is precious. Stock moves so quickly from day-to-day that keeping up with stock levels is a real challenge. In a high pressure environment like this communication is vital, so choosing the correct radio solution is key.

Histon Produce was using low-cost, license-free hand portable radios purchased from a competitor. They experienced a loss of coverage in certain areas, and their radio supplier wasn't on the ball when it came to resolving problems.

RadioTrader's solution was a licenced digital radio system that gave the company rugged, reliable handsets and saturated coverage. Discover the positive impact this had for Histon Produce.
Find us on Stand 445 in Hall 4 at LAMMA 2018.
The LAMMA show is completely free to attend with plenty of free parking, but if you can't make it, why not give us a call instead? Consultations are free and there's no hard sell...just good, old-fashioned service from helpful people who really know their stuff.
Contact us on 0151 676 2888 or drop us a line.

Released On 6th Dec 2017
You may also be interested in
Helping Agriculture Flourish through Better Communication
Two-way radio experts from RadioTrader are looking forward to answering questions from visitors at this year's CropTec Show on 29th and 30th November (Stand 20, Hall 3).
Our top-selling two way radios for 2017
We've identified the 5 top-selling radios here at RadioTrader, with a few of the features that make them such popular choices for customers.
Like this article? Share with your friends