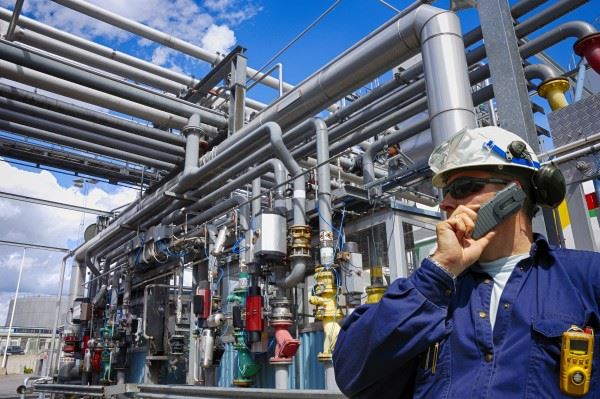 Released On 2nd Jul 2019
ATEX Radios - Intrinsically Safe Radios for ATEX Zones
Our ATEX radios and accessories are highly sought after by customers working in potentially hazardous environments, but our expertise is also valued when answering their questions. Before you browse our ATEX products, here's some useful information.
What is ATEX radio?
Radio systems are an essential communications tool in many working environments, but in areas where electrical sparks or heat could ignite an explosion, it's not always safe to operate standard radio equipment.
Fortunately, two-way radio systems can be built to withstand explosive atmospheres. When the equipment complies with rigorous standards set out by the ATEX Directive, it can be operated completely safely in potentially hazardous areas.
What does ATEX stand for?
ATEX stands for Atmospheres Explosibles. The ATEX Directive 94/9/EC was introduced by the European Union in 2003 and it seeks to ensure that intrinsically safe equipment and systems, including ATEX approved two-way radios, are used by workers in potentially explosive atmospheres.
What makes a radio intrinsically safe?
"Intrinsically safe" is an expression you might hear frequently when applied to the use of electrical equipment in hazardous environments. In the case of two-way radios, it means the device is safe to use where the presence of a spark, heat or flame could create a safety hazard.
Intrinsically safe, ATEX-approved radios are manufactured to very stringent requirements to reduce or eliminate the risk of generating even the tiniest spark. They must also limit the heat produced by the device. From the radio-casing to the batteries they use, everything is constructed with safety in mind.
Not all two-way radios meet ATEX standards, though many leading manufacturers have ATEX-approved radios in their range, including Motorola, Hytera and Icom. ATEX digital radios usually contain many of the enhanced features you'd expect from modern radios.
What does "ATEX approved" mean?
Radio equipment intended for use in a potentially hazardous environment must be fully tested to meet the ATEX Directive standards, and approved to be intrinsically safe. This ensures that it won't cause a spark or reach a high temperature, which could ignite in an explosive atmosphere.

Environments that may require ATEX-approved two-way radios
There are many situations where radios are critical to effective operations, yet standard two-way radios could make a hazardous environment even more dangerous.
Emergency scenes attended by fire, ambulance and police services
Oil rigs & refineries
Gas mains
Coal mines
Chemical plants
Engine rooms
Factories
Airports
Timber sawmill
Intrinsically safe, ATEX radios, accessories, microphones and headsets are essential for safe communication in this type of environment. We have all these items in stock and can advise you on the most appropriate ATEX accessories.
ATEX zones
Hazardous areas differ as to the frequency and duration of risk present in the form of flammable gases or dust materials. Different ATEX zones therefore denote the type and level of risk in an area. ATEX approved radio equipment must comply with the ATEX zone in which it is intended for use, and be documented appropriately, too. The ATEX zones and their definitions are:
For gases/vapours and dust
Zone 0 (for gases/vapours) or Zone 20 (for dust)

An area in which an explosive mixture is continuously present, or present for long periods. Radio equipment designed to be used safely in this this zone offers a very high level of protection.

Zone 1 (for gases/vapours) or Zone 21 (for dust)

An area in which an explosive mixture is likely to occur in normal operation. Intrinsically safe radios used in this zone offer a high level of protection.

Zone 2 (for gases/vapours) or Zone 22 (for dust)

An area in which an explosive mixture is not likely to occur in normal operation and if it occurs it will exist only for a short time. Devices approved for use in this zone offer a normal level of protection.
Temperature classes
ATEX-compliant radios are primarily recognised by their deployment zone, but Temperature classes, consisting of 6 categories (T1 to T6), denote the heat levels in which a product may be used.
Browse the full range of ATEX-approved equipment from RadioTrader
Recommended ATEX two-way radios
Here are a few ATEX radios that we particularly recommend:
Motorola DP4401EX
From Motorola's innovative Mototrbo range, the DP4401Ex is a class-leading ATEX-certified radio that offers exceptional communication in dangerous working environments. It operates in extreme temperature conditions ranging from -20°C to +55°C, with an IP67 rating for total protection against water and dust ingress.
The DP4401EX also features a range of specifications to promote the safety of workers in industries such as oil, gas, mining or chemical refineries.
View full technical specs or buy the Motorola DP4401EX ATEX radio.
Icom IC-F3202DEX and IC-F4202DEX
Icom has some excellent ATEX equipment, and we would highly recommend you take a look at the IC-F3202DEC (VHF model) and the IC-F4202DEX (UHF model). Its ATEX specifications make it ideal for oil, gas; chemical, mining and marine industries.
As you'd expect, these models are water-tight and dust-tight to IP67 standards, and provide a host of worker safety faetures such as Man Down and Lone Worker. The IC-F3202DEX and IC-F4202DEX has a range of programmable dPMR features.
View full technical specs or buy the Icom IC-F3202DEX or Icom IC-F4202DEX
Entel DT953 DMR ATEX Radio
If you're looking for a licence-free ATEX radio, we recommend Entel's DT953 DMR model, which operates in both digital and analogue modes. The DTEx range is a rugged hand portable which delivers fantastically loud audio and operates on the pan-European, licence-free PMR446 / DMR446 frequencies. Ergonomic controls are specifically designed for easy use when wearing gloves.
By combining the latest DMR digital technology and highest ATEX gas group ratings, the DTEx series delivers best-in-class range, safety and reliability.This radio exceeds MIL-STD-810 and has an impressive IP68 rating.
View full technical specs or buy the Entel DT953 ATEX two-way radio.
We stock leading brands of ATEX radio equipment and accessories, such as Motorola, Icom and Hytera.
RadioTrader provides free and generous advice for choosing, buying and installing ATEX radio systems in your business or organisation.
Call us on 0151 676 2888 or enquire using our contact form for more information.