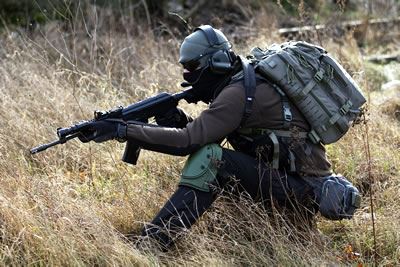 Released On 21st May 2019
Two Way Radios for Airsoft in the UK
As a sport, Airsoft is rapidly gaining in popularity – we've counted nearly 200 Airsoft skirmish sites registered and approved in the UK alone. Unsurprisingly, a wide-ranging retail industry has grown in response to interest in Airsoft guns and accessories, but many skirmishers are confused when it comes to getting the best radio for their Airsoft events.
A new concept for radio communication in Airsoft
We know that dedicated Airsoft players often part with serious money for guns and accessories, so it surprised us that they spend so little on decent radio equipment.
Our research showed that Airsoft players often choose low quality push-to-talk two way radios. They're cheap, and that's the main attraction, but they're not designed for sustained, long-term use. They may not give you the coverage you need, either.
The other problem with cheap radios is that they're not really repairable – when something goes wrong, you'll end up buying a new one. So the long-term cost isn't as low as it first seems.
For a whole new experience in airsoft radio comms, we'd like to introduce you to a new concept.
Instant wide area coverage over an LTE (4G) and 3G network
Icom has brought out an advanced PoC (Push-to-Talk Over Cellular) radio system with its IP501H LTE Transceiver, a two way radio which operates over 4G and 3G via a SIM card. This provides you with unlimited nationwide coverage without the need for repeaters or an IP network.
It's not a mobile phone, though. The radio enables a group of people, such as an Airsoft team, to receive calls simultaneously.
Push-to-talk instant communication
Full-duplex communication. Talk and listen simultaneously
Individual calls, Group calls or All calls, just like a conventional two way radio
Communicate throughout the coverage area of LTE (4g) and 3G network
Other features of the IP501H
No need to wait for an available channel to communicate – multiple users in the call groups can talk and receive at the same time
Priority Interrupt calling – break into an ongoing call to transmit an urgent message in the case of an emergency
Compact and lightweight
IP67 dust-tight and waterproof, because Airsoft is messy!
If you're seriously into Airsoft and looking for a better radio experience, contact us about a cost-effective solution using Icom's PoC radio system.
Why use a radio in Airsoft?
Team strategy is a vital component to the success of your Airsoft events. Fast and effective communication to team players is also key. And of course, safety at Airsoft events is a prime concern for everyone involved.
Two way radios are the natural choice to fulfil all these requirements and can give you a huge tactical advantage over other teams.
Communicate with your team over wide distances
Adapt quickly to changing situations on the airsoft field
Respond rapidly to safety announcements
Our team of radio experts are here to answer any questions you might have about the best radio set-up for your airsoft team.
Call us on 0800 294 7766 for friendly, no-obligation advice and information about Icom's IP501H LTE Transceiver.
You may also be interested in

6th Dec 2018
RadioTrader is pleased to support the Motor Sports Association (MSA) as a registered supplier of two way...
Read More

12th Feb 2016
The Rugby Football League (RFL) has made some rule changes in 2016 to allow the use of two way radi...
Read More