Released On 13th Feb 2018
Upgrade your Ship's Two Way Radios for SOLaS Compliance
Do your ship's on-board radios meet the stringent new standards required by Safety of Life at Sea (SOLaS) regulations?
Chapter II-2, Regulation 10.10.4 has set a 1st July 2018 deadline requiring ships to carry a minimum of two intrinsically safe, ATEX-compliant hand portable radios for each fire party of firefighters.
RadioTrader can programme the frequencies of your ship's on-board radios, including fire-fighter radios, reserving a dedicated channel for Fire Party use only during fire-fighting operations, as recommended by SOLaS regulations.
Buy ATEX-approved, intrinsically safe hand portable radios.
This brochure from Motorola may help you better understand your specific radio requirements - Meeting SOLaS Requirements.
Why must ships' radios be ATEX approved?
Two way radios used by fire-fighters must be robust enough to work in extreme conditions, so they should be dust-proof and watertight. They must also meet strict specifications to ensure they are explosion-proof.
Learn more about intrinsically safe radios.
Upgrading to intrinsically safe radios?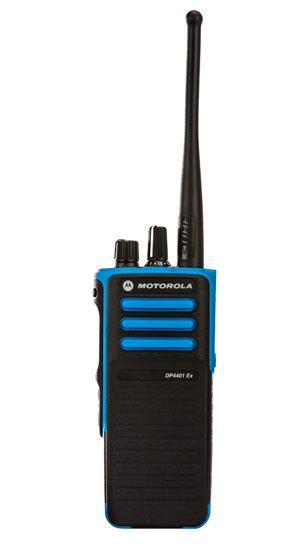 If you need to upgrade your vessel's two way radios to comply with the regulations, RadioTrader offers a selection of intrinsically safe radios, such as:
Motorola DP4401 Ex ATEX
This hand portable radio is IP67 rated and built for use in demanding environments. Packed with features such as man down, lone worker and integrated with GPS, the DP4401 provides high quality communication and comprehensive user safety. The ideal partner when working in environments containing dust and potentially explosive gases.
Motorola DP4801 Ex Atex
The Motorola DP4801 Ex ATEX hand portable provides reliable, safe communication in even the most dangerous of environments. The DP4801EX is packed with features designed to offer comprehensive user safety, from man down and lone worker to integrated GPS, this radio provides high quality class leading ATEX support.
Hytera PD795Ex with GPS
Designed to meet ATEX directives, the IP67-rated Hytera PD795Ex is perfect for tough environments requiring an intrinsically safe device.
Call us on 0151 676 2888 or email info@radiotrader.co.uk for more information.