Two way radios for hotels and the hospitality sector
Is your hotel upgrading an existing analogue two way radio system? Digital hand portable radios have a number of benefits for businesses in the hospitality sector, whether you're running a busy guest-house, a small or large hotel.
Improved Guest Experience
Social media and popular review sites put your hotel's services firmly in the spotlight; providing guests with a five-star service has never been more important and your radio system can help you achieve this through rapid and discreet communication between departments.
Example: Reception needs to know if a newly arrived guest's room is ready. Instant radio communication allows them to call either specific housekeeping staff on that floor or send out a group call and get an answer in seconds. The alternative is to waste precious minutes trying to reach the relevant person on the phone or shouting messages along corridors to other staff.
If a room isn't ready yet, guests can quickly be pointed to the lounge or bar and the receptionist can radio bar staff as soon as their room is ready.
A number of our hotel customers has their concierge use their digital radio's to communicate with the reception desk so guests receive a prompt and warm welcome as they arrive.
Stock control
Your digital two way radio system allows hotel staff to easily alert the relevant people if they have spotted a low stocked item or need to arrange a delivery of goods for the catering department.
Inter-department communication

Radios can be set up so that each hotel department has their own channel for individual communication or they can be all informed and have main group channels. For maximum flexibility certain models can also have individual call ID so every radio user can be contacted privately if required.
RadioTrader can help you programme your radios the way that best suits your business.
Programmable security or access features
Today's feature-rich radios often come with built-in functions to improve your staff's security, such as Lone Worker, Location Tracking or Emergency buttons.
In addition, ask RadioTrader about the potential for us to program a link between your hotel's fire alarm and security system so that a triggered alert is sent directly to your radio, or alerts can be triggered from the radio itself. Some radios can also be programmed to link to building access gates, so you're able to open a gate directly from your radio.
Cost effective communications solution
Today's two way radios are robust, reliable and very cost-effective to run compared with alternative solutions such as mobile phones. And when you consider the free expertise provided by RadioTrader and our first-rate repair service, the value for money is excellent.
Simple to operate Push To Talk and earpieces available
RadioTrader can supply a full range of accessories for all our radios, including earpieces, antennas, carry cases, speakers, spare batteries and chargers, so you never need to worry about having a compatible accessory for your radio.
Most of our radios are easy to operate but we'll help you or your staff get up to speed if you need help with your new radio system.
Recommended two way radios for hotels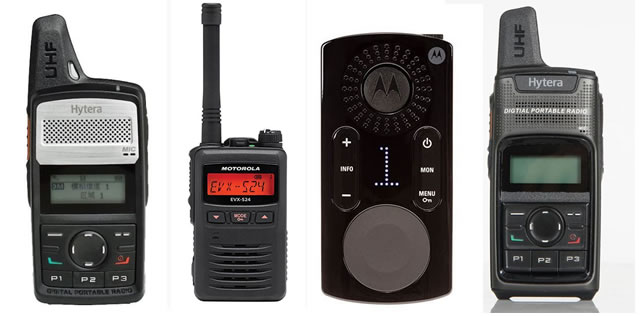 We've put together a page of two way radios that we recommend for use in your hotel. We stock radios from leading brands such as Motorola, Hytera and Kenwood.
For more information about any of RadioTrader's products or services, Please contact us.
Released On 15th May 2018
You may also be interested in
Top 10 Two Way Radios for Business in 2017
Still trying to decide on the best two way radio? Here's our run-down of the most sought after models in 2017.
Radio Trader - for service that goes beyond the sale
Radio Trader customers get the benefit of our unbeaten service before, during and after their purchase.
Like this article? Share with your friends