Two Way Radios for the Construction Sector

Released On 3rd Sep 2015
Two way radios are an essential tool in the construction industry, where instant communication can have an impact on site safety, as well as productivity.
With many years' experience in this field, RadioTrader understands the two way radio features which really make a difference for construction workers.
Good audio quality for noisy construction environments
Reliable radio cover for communication over large construction sites
Tough enough to withstand rough, wet and sometimes dirty situations
Long battery life for long hours away from the site office.
We offer free advice and can supply a robust two way radio system suitable for your construction business, together with a wide range of compatible accessories.
Call us on 0151 676 2888 for more information.
Audio quality
Digital two way radios have improved sound quality hugely, so you can now hear and be heard more clearly, a definite advantage over analogue radios on noisy construction sites.
In addition, some models from Motorola now feature Intelligent Audio. This technology automatically adjusts your radio volume within your coverage area when you move between a noisy environment and a quieter area.
Examples of radios we sell with Intelligent Audio are the Motorola DP3441, the DP2400 and the DP2600, all from the Mototrbo range.
Reliable coverage over large sites
Workers often need to communicate over construction sites covering several acres. In many cases, there's not a clear line of visibility between radios – other buildings or obstacles can potentially reduce your coverage.
RadioTrader can advise you on the best type of radio system to combat this, and if we think a repeater would help you maintain a strong signal, we'll help you set this up and maintain it.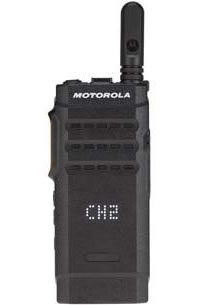 Radios that can take a few knocks
If you work in rough conditions, you need a two way radio with a high IP rating to offset the effects of dust and dirt, rain showers and the odd dunking in a wet ditch. Your radio may even need to be tough enough to survive the occasional drop.
Try the Motorola SL1600 with its shatterproof LED display housed behind the case, designed to withstand drops and tumbles. It also has an IP57 rating for a good level of dust and water resistance.
Long battery life
On a large construction site, you need to be able to use your radio for the entire shift without diversions to replace or recharge your battery. The good news is that modern digital technology is very energy efficient; we can recommend two way radios with longer talk time and battery life for frequent and heavy users.
If you work in any of these fields, call us on 0151 676 2888 for help.
builders
builders merchants
crane operators
scaffolders
construction engineers
joiners
glaziers
plumbing or electrical
You might also be interested in: