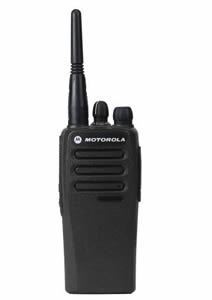 Our top-selling two way radios for 2017
There's never been such a huge range of feature-rich two way radios available as there are today. That's good news, of course, but if you're new to using radios, or thinking of upgrading after using an older model for a long while, the choice can be a little bewildering.
To help you out, we've identified the 5 top-selling two way radios here at RadioTrader, with a few of the features that make them such popular choices for customers.
1. Motorola DP1400
The DP1400 is a great entry-level radio and a genuine all-rounder, with plenty of compatible accessories such as earpieces, batteries and chargers. It's easy to use, reliable and extremely cost-effective.
Available in both analogue and digital models, it also benefits from great battery life (up to 11.5 hours between charges), good build quality and outstanding coverage.
Its IP54 rating gives the DP1400 protection from water spray and dust particle ingress, which makes it a robust choice for use in most normal working conditions.
It's easy to appreciate why this robust little radio is a winner with so many users.
Buy or learn more about the Motorola DP1400.
2. Motorola SL1600
If a combination of ruggedness and ultra-slim compactness is what you're looking for, the SL1600 should be on your shopping list. At just 22mm thick and the same height as an iPhone 5, it's small enough to fit inconspicuously in your pocket or handbag, but it has a unique, shatterproof LED display and it's built to withstand plenty of drops and tumbles. This makes it particularly useful for every-day users and those who prefer a more discreet profile.
The SL1600 features the latest technology but it's designed for easy, intuitive use. It's available in both analogue and digital models, and delivers an enhanced range with long battery life.
This model has consistently been a best-seller since it was first introduced.
Buy or learn more about the Motorola SL1600.
3. Motorola DP3441e
The DP3441e is an incredibly compact radio but it doesn't skimp on power or technical features. It also boasts an impressive IP68 rating, making it waterproof and robust enough to withstand the harshest environments. This is probably what makes the DP3441e a very popular choice of radio for the marine and yachting industry, where its ruggedness has frequently been put to the test and not found wanting.
You'll enjoy superb audio quality with the DP3441e; it will adjust the volume automatically depending on noise levels around you. Mobile work teams will benefit from a range of security and safety features, as well as Bluetooth connectivity and integrated GPS.
Outstanding coverage and long battery life almost go without saying for any of our top-selling digital radios.
The DP3441e is in a slightly higher price bracket to the first two way radios we've mentioned in this list, but its quality and features justify it.
Buy or learn more about the Motorola DP3441e.
4. Motorola DP4400e
Designed for skilled professionals, Motorola's DP4400e focuses on delivering complete connectivity to your business. It integrates Bluetooth, Wi-Fi, location tracking and plenty of cleverly designed safety and productivity features to safeguard your workforce and boost productivity.
The DP4400e has survived tough military-standard testing to earn its IP68 waterproof rating, and if longevity is a priority, you'll be impressed by this radio's battery; it provides up to 28 hours charge – ideal for multi-shift working. This model also has an improved receiver which boosts its range by up to 8% compared to previous models.
For users who want the full gamut of digital features without compromise, the DP4400e is a great choice.
Buy or learn more about the Motorola DP4400e
5. Vertex EVX-S24
Vertex has managed to sneak its EVX-S24 onto our Top 5 sellers list – well deserved in our opinion. It's a cost effective little model, operating in both analogue and digital modes, so upgraders have flexibility without incurring extra handset expenses when they make the switch.
It's also the most compact and lightweight model yet from Vertex, so it's the ideal radio for industries that value discretion and convenience: education, hospitality, retail etc.
Its size belies the EVX-S24's ruggedness, however; with an IP67 rating, this little radio will withstand immersion in up to 3 feet of water for 30 minutes and it's completely dustproof.
Vertex have included various other useful features in this model and with an impressive 12 hour battery life (10 hours in analogue mode), it all adds up to a great little workhorse that won't break the bank.
Buy or learn more about the Vertex EVX-S24
Need more information?
Our expert team is here to help. You won't get the hard sell – just a wealth of knowledge to guide you through the maze, plus help with licensing and programming if you need it.
Call us on 0151 676 2888 or send an enquiry.
Released On 13th Jun 2017
You may also be interested in
Radio Trader - for service that goes beyond the sale
Radio Trader customers get the benefit of our unbeaten service before, during and after their purchase.
RadioTrader is accredited with Motorola's Platinum Partner status
RadioTrader has gained Motorola's Platinum Channel Partner status in recognition of its expertise.
Like this article? Share with your friends